Frankie Wrap Top
Product no.: FrankieT
39,66 EUR
Summer Collection 2020 by Paradise Chick
Straps are adjustable for optimal fit.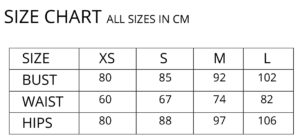 Customers who bought this product also bought the following products:
The product looks exactly the same as picture. But I gave it 4 stars as it shows my nipples. Not camel toe but my nipples. I am not looking to free my nipples. Other than that I am happy with my purchase.
Frankie Garter Shorts
33,55 EUR
incl. 21 % VAT excl. Shipping costs
Exotique Corset Top
38,64 EUR
incl. 21 % VAT excl. Shipping costs
Ultra Grip Superhero Leopard Biker Shorts
49,82 EUR
incl. 21 % VAT excl. Shipping costs
---
Other products of the same brand